Amputee formation skydivers to mentor new disabled team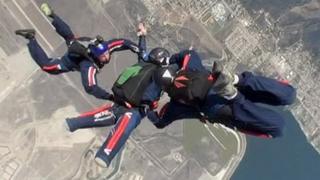 The UK's first amputee skydive formation team, who train at Netheravon in Wiltshire, are to mentor a new team of disabled skydivers.
The BLESMA Trans4mers are all wounded current or ex-servicemen who have lost eyes, limbs or the use of their limbs.
The five-strong team, which started training six months ago, came 12th out of 18 able-bodied teams at the Armed Forces Skydiving Championships in July.
Sergeant Dave Pacey said their achievement was "almost unheard of".
The team began their training in a wind tunnel, to experience the sensation of skydiving, and in March travelled to California for an accelerated free fall course.
They now regularly jump from 13,500ft above the Army Parachute Association at Netheravon and next year will mentor a new team of amputee formation skydivers.
'Pushed boundaries'
The BLESMA Trans4mers were set up by Sergeant Pacey, with his wife Alana, after he was involved in an IED explosion in Afghanistan in 2008.
Despite being unharmed, he wanted to do something to help rehabilitate other servicemen who had been less fortunate.
"Considering they only started skydiving in March this year - and they've done their first competition is absolutely brilliant," he said.
"They're amputees, so they've actually pushed the boundaries as far as they can and we're improving the sport for other amputee skydivers."
Team member Sergeant Stuart Pearson, from Swindon, is believed to be the only above the knee amputee skydiver in the UK.
He stepped on an anti-personnel mine in Helmand Province in Afghanistan during his time in the 3rd Battalion, The Parachute Regiment, in 2006.
"One of the first things I said to myself was 'I'm going to get back up skydiving'," he said.
"Ideally you have two knees to help with the forward movement. Obviously, I've just got one knee, so - I'll need to do something else with other parts of my body in order to fly properly."
'Level playing field'
Rob Copsey, who had never skydived before, is a right leg below the knee amputee.
He was injured after stepping on an anti-personnel mine while carrying out humanitarian work with the British Army in Rwanda in 1994.
"When you get injured you don't think you'll ever get to do things like that again," he said.
"And it's a level playing field up there. It doesn't matter if you're missing a limb or visually impaired. You can skydive and compete, as we have this year".
The BLESMA Trans4mers are funded by BLESMA and supported by The Army Parachute Association and Airkix.