Swindon Mela organisers aim for £10,000 in donations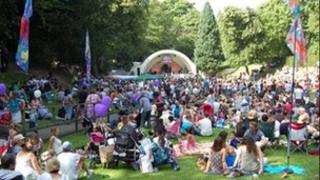 A donations target of £10,000 has been set by organisers of the Swindon Mela to help fund next year's event.
For the first time, visitors are being asked for a £2 donation after organisers were refused permission by the local council for a set entry fee.
Organiser Bruce Clarke said: "If this works and our patrons are OK with this, it will give us long-term security."
About 20,000 visitors are expected at the event, which is in its 10th year.
"If 20,000 people come, say half of them are adults who contribute, that's a £10,000 target we need to sustain not just at this year's mela, but more for next year's.
"If we use up all the reserves this time round, we'll have nothing in the petty cash box, so it's a strategic decision and if it works, it's here to stay."