Swindon and Cricklade Railway opens new track extension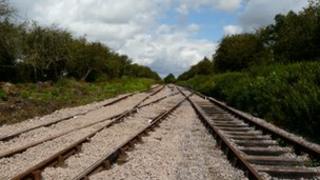 The Swindon and Cricklade Railway in Wiltshire has opened a newly-built section of track after several months of construction.
The half-mile extension has meant an increase of the total length of useable track to two-and-a-quarter miles.
Spokesman Adrian Brodie said: "It has taken many months of blood, sweat, tears and commitment. It's a hugely important deal for the railway."
To celebrate, the Swindon-built Prairie 5521 will be in use for three days.
The track extension means passengers can take a four-mile round trip from Blunsdon station to the Taw Valley.
But passengers will not be able to get on or off at this point, as the platform and facilities at Taw Valley Halt will not be completed until the new year.
Organisers said a planned flypast by the Red Arrows on Bank Holiday Monday had been cancelled.