'Very unusual' pink grasshopper spotted in Wiltshire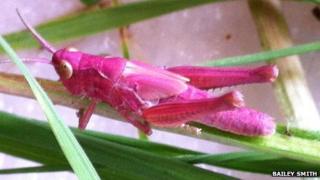 A rare sighting of a pink grasshopper has been made on a farm in Wiltshire.
The "very unusual" vivid pink insect was spotted by eight-year-old Bailey Smith at Ratfyn Farm in Amesbury.
The insect has been identified as a young female meadow grasshopper by the Wiltshire and Swindon Biological Records Centre (WSBRC).
Vicky James, from the WSRBC, said although it was not a rare species, "only rarely are vivid pink female nymphs seen".
Bailey Smith, who keeps his pony at Ratfyn Farm, said: "I was just pushing my foot through the grass when it jumped out.
"I knew it was a grasshopper but I was quite surprised."
'Strange Find'
The eight-year-old managed to trap the inch-long insect to show his mother, Vanessa.
"I thought he was pulling my leg," she said.
"But he said 'it's really pink' and it was, it was cerise pink - so we took a picture of it and sent it to the WSBRC."
According to the WSBRC, common grasshoppers are usually green in colour, however, "brown and purplish forms also occur".
"But it is a very unusual to be this pink colour and only rarely are vivid pink female nymphs seen," said Ms James.
"Often they develop into pinkish-purple adults, yet this one may remain this vivid pink, or turn out to be a normal colour.
"So it's not a rare species but it is an unusual colour which makes it a very interesting and strange find."
Mark Bushell, assistant curator of invertebrates at Bristol Zoo Gardens, said brightly coloured grasshoppers were "fairly unusual but not unheard of".
"Most grasshopper species in the UK are a greenish-brown in colour, but some have genetics that can make them pink or purple-red," he said.
"They may not tend to survive for long in the wild as they are easily spotted by predators, so it is a treat to see a grasshopper as beautiful as this."