Adrian Cooksey death: Richard Elmes lied 'out of embarrassment'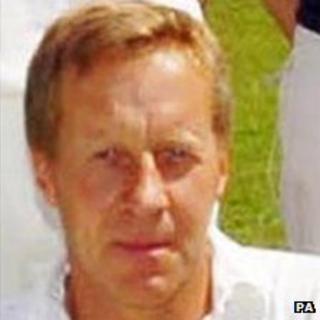 A man who denies the manslaughter of his friend has told a court he lied about an argument they had minutes before his death out of embarrassment.
Richard Elmes did not tell a previous trial, of a student wrongly accused of causing the death of Adrian Cooksey, about the row and has admitted perjury.
Mr Elmes, of Melksham, Wiltshire, said he had been embarrassed because the row had been about an affair he had.
He told Bristol Crown Court he was not with Mr Cooksey when he was punched.
Mr Elmes, 51, told the jury he was "devastated" when he heard of the death of Mr Cooksey, from Trowbridge.
The jury has heard the two men left a friend's house at 02:40 GMT on 8 March 2009 after a drinking session and that CCTV showed Mr Cooksey lying unconscious on the ground at the end of Spa Road, Melksham, three minutes later.
Told 'porkies'
Mr Elmes, of Semington Road, said he had often wondered whether Mr Cooksey, who knew of his "sexual liaison" with a married woman in the 80s, had ever told her husband.
He told the jury he asked Mr Cooksey and he replied "yes, what are you going to do about it?"
Mr Elmes said he was shocked at the reaction and told Mr Cooksey he was going to go home, leaving him near the humpback bridge on Spa Road.
He did not tell police about the row until after they recorded him admitting that he had told "porkies".
Asked by prosecutor Ian Lawrie QC why he lied, Mr Elmes, who is now married with a son, said: "Embarrassment. If it came out in a small town it would have been all over the papers. Panic. I suppose I didn't want it coming out."
'Mistaken'
The court heard that Mr Elmes also changed his evidence about the route he walked home that night.
Mr Elmes said he realised he had given the wrong route when he was shown CCTV of himself outside a petrol station.
Asked by Mr Lawrie if he was "trimming evidence" to suit himself, Mr Elmes replied: "I was mistaken".
Asked if he struck Mr Cooksey, he said: "No, I did not."
Student Tom Minshull was acquitted of Mr Cooksey's manslaughter in November 2009 and a fresh investigation began.
A pathologist said Mr Cooksey, 50, had died from an overwhelming brain injury, when part of his head came into contact with the ground following a heavy blow to the face.
The trial continues.