Chippenham 'win a shop' competition winners to open stores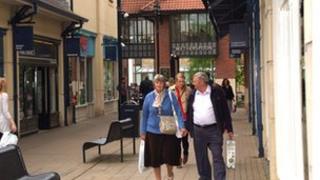 Two entrepreneurs who won rent-free retail premises in Chippenham are opening their shops on Saturday.
Karen Jones and Anne Rudd submitted business proposals to the owner of the Borough Parade shopping centre and were chosen to occupy two empty units.
Ms Jones's shop, Vintage Couture 77, will sell vintage clothing and Ms Rudd's shop, Jim and Jemima, will sell home-made children's clothes.
Borough Parade owner Mountgrange said it was "thrilled" to welcome the shops.
A spokesman said: "The two entrepreneurs really impressed us with their applications for the Win a Shop competition and it will be a pleasure to witness these two new business start-ups trading alongside national brands."
Mountgrange launched the scheme in April order to fill empty shops at the centre.
'Great opportunity'
Ms Jones said: "There is always a risk, and it's always a gamble, but having said that it's a great opportunity and we're just being very positive and hoping that it all works out well."
The pair will be able to trade in the centre rent-free for six months.
Their costs will also be covered for the first two months and they will be assisted by Mountgrange with the launch of the shop.
At the end of the rent-free period they will be offered a formal lease.
Borough Parade shopping centre, in Chippenham town centre, is home to a selection of national retail brands and independent stores.