David Hempleman-Adams and Simon Carey out of Gordon Bennett balloon race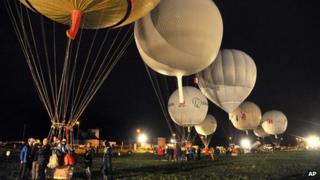 The Wiltshire-based explorer David Hempleman-Adams is out of the 56th Gordon Bennett Gas Balloon Race.
Mr Hempleman-Adams and co-pilot Simon Carey, from Box, Wiltshire, took off from Ebnat-Kappel in Switzerland on Saturday night
Their balloon GBR-1 landed in northern Spain on Monday morning having travelled 849.88km (528 m).
Competitors for the Gordon Bennett Cup have a simple aim - to travel as far as possible from the launch site.
'High hopes'
A spokeswoman for GBR-1 said the team had a good first night and had high hopes for the race.
"Unfortunately they didn't get the southerly trajectory they'd wanted so had to land some 70 miles west of Girona otherwise their track would have taken them over the [Balearic] sea.
"David and Simon had been in regular contact with Clive Bailey and meteorologist Luc Trullemans at the flight control HQ in Bristol.
"They would have advised the crew of the wind direction and speed at various altitudes," she added.
At 12:15 BST on Monday the lead balloon in the race is the American USA-2 - which has travelled 1298.93km (807m).
Unlike a conventional hot air balloon where the height is controlled by a burner, the gas balloons are filled with hydrogen and controlled by releasing gas to go down and throwing out ballast to go up.
Last year Mr Hempleman-Adams landed in Worgl, Austria, finishing in fourth place after having travelled 580.9km from the launch site at Gap-Tallard in France.
In 2008, along with co-pilot Jon Mason, he became the first British team to win the race since its inception in 1906.