Swindon's Mechanics' Institute company is dissolved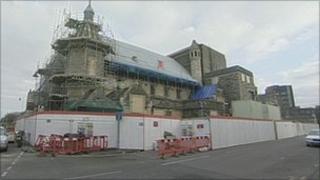 A firm that owns a historic building in Swindon that used to educate railway workers has been dissolved.
Companies House has confirmed that Forefront Estates Ltd, owners of the Grade II* listed Mechanics Institute, has been struck off for failing to file its accounts on time.
The company's director, Matthew Singh, bought the building in 2003 for £500,000 and planned to develop it.
In 2010 the council seized the property in order to carry out urgent works.
'Owner to blame'
According to a Swindon Borough Council spokesman, the authority is owed an estimated £1.2m for the urgent and dangerous repair works it carried out on the 150-year-old-building.
But he said it is going to be difficult getting the money back.
He said: "The council has never owned the building - the owner is to blame, he had a clear duty not to allow the building to deteriorate and he evaded his responsibility and the public pocket picked up the bill."
The Mechanics' Institute opened in 1854 as an educational centre for railway workers, but closed in 1986 and has stood empty ever since.
"It's exceptionally difficult finding a viable use for it," said the spokesman.
"It's in an appalling condition, it's full of asbestos, there's lead paint and the basement is flooded - it will cost a fortune to clean up and the council can't afford to restore it."
He said the council would be trying very hard to come up with a future plan for the building and was talking to the Mechanics Institution Trust to "explore every possible avenue" for a viable use.