Wadworth Brewery to move jobs from Devizes to Thatcham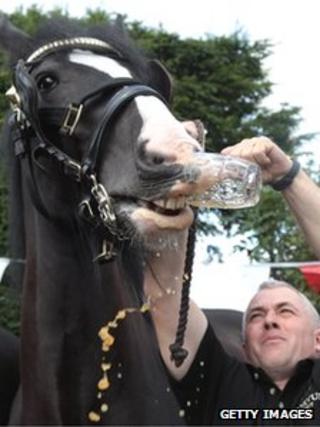 A Wiltshire-based traditional brewery is to shift part of its business out of the county with 31 jobs being moved.
Wadworth Brewery, which was founded in 1875, wants to be more cost effective by off-loading its distribution and warehousing to a Berkshire firm.
The brewery said it had not decided how many staff would move from Devizes to Thatcham, which is 40 miles away.
The company has said that its brewing operation and shire horses would not be affected.
A date of 5 November has been set for the operations to move from the Wiltshire base to Kuehne & Nagel drink logistics.
Affected staff are being consulted over how many will stay in Devizes and how many will have to move.
The negotiations will also include the possibility of voluntary redundancy for those who do not want to move.
Wadworth Brewery was founded in 1875 and had its Northgate Brewery designed and built by Henry Wadworth 10 years later.
In 1974 it reintroduced the use of shire horses and currently employs three to deliver its beer to pubs within a two-mile radius of the brewery.