Luckington Manor fire was caused 'by mirror'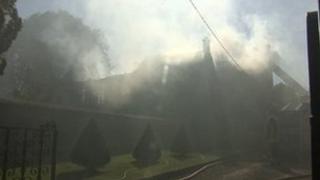 A fire at a Grade II listed building in Wiltshire was most likely caused by sunlight reflecting from a mirror, the fire service has said.
Luckington Manor was badly damaged in the fire on Friday which started in a bedroom of the 17th Century building.
At the height of the blaze officers from all but three of the service's 24 fire stations were at the manor.
The brigade said reflective objects "should never be left on a windowsill or any surface by a window".