Up to 1200 jobs to be created at retail hub in Amesbury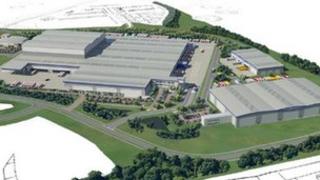 Up to 1200 jobs will be created in south Wiltshire with the opening of a £70m retail distribution centre.
Liverpool-based firm Home Bargains plans to build a 700,000 sq ft regional warehouse at Solstice Park in Amesbury.
Home Bargains currently has 270 retail stores in the UK, including one in Trowbridge, with plans for eight more in the county.
Outline planning permission has been approved, and if final permission is granted, work could begin in April.
Wiltshire Council's Alistair Cunningham said the outline plans just need "finessing" and that he hopes that permission for the scheme goes ahead.
'Difficult times'
Joe Morris, of TJ Morris which trades as Home Bargains, said: "This is a fantastic opportunity for both Home Bargains and Amesbury, and we look forward to working closely with Wiltshire Council to make this scheme happen during these difficult economic times."
John Todd, chairman of Stonehenge Chamber of Commerce said: "To put a huge, huge investment into this town can only bring more footfall into the town.
"Any business which wants to invest in our town and bring along with it 1200 jobs, that is a plus point."
The distribution centre will be be built beside the A303 and will supply Home Bargains stores throughout the south of England.
Once planning permission is given and work begins on construction of the building, it is expected to take about 18 months before the site opens.