Thermal energy grid scheme proposed for Avonmouth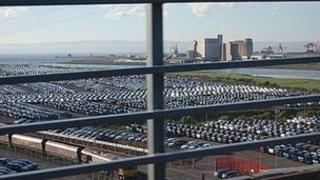 A £100m scheme to recycle heat energy generated by waste facilities is being proposed for Avonmouth in Bristol.
The thermal energy grid, proposed by Low Carbon South West, would see waste heat distributed along up to 10km of pipeline to companies in the area.
If funding can be secured, the project could be up and running by 2016.
Alan Bailey, from Low Carbon South West (LCWS), said it had a lot of support and he was "very, very confident that funding will soon follow".
The private public partnership scheme has been initiated by LCWS, a community interest company supporting the development of environmental technologies and services.
Steam or water
The project could, according to the group, lead to the development of "one of the largest industrial to industrial heat grids in Europe".
"There is an appetite for this type of project - we have already spoken to investment banks who are willing to put up a percentage subject to due diligence," said Mr Bailey, the group's chairman.
"And there is a lot of support for it and we're very, very confident that with the right final development team, that the funding will soon follow."
The thermal energy grid distributes heat from waste plants, in the form of steam or water, through pipelines buried in the ground to local companies.
Brett Spiller, from New Earth Solutions, which runs household recycling plants in Avonmouth, said the scheme would "very much be welcomed".
"One of the key challenges we have in our type of industry is looking at the use of heat," he said.
"It's very different to the electricity grid, which is well founded and we know that we can generate renewable electricity and put it straight into the grid. In terms of heat, we don't have the same sort of arrangement so I think it's very important that schemes like this come forward."