Funeral of sisters Tara and Pippa Darlington takes place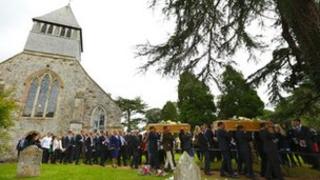 Two sisters from Wiltshire who were killed on holiday in Morocco have been described as the "brightest of stars" by their father at their funeral.
Tara, 23, and Pippa Darlington, 21, from Whiteparish, Salisbury, died in a road accident on 17 September.
The service for family and friends was held at All Saints' Church, Whiteparish, near Salisbury.
Hundreds of people packed the church for the service which saw tributes given by family and friends.
The sisters' father, Patrick Darlington, 62, led the tributes to his daughters and said his family would mourn the loss of the girls for the rest of their lives.
"Each of you were the brightest of stars - burnt out in your prime," he said.
He described Tara as "buzzing with energy, joy, fun and new ideas" and Pippa as "soft, kind, beautiful, sensitive, loyal and incredibly loving".
Mr Darlington ended the tribute saying his daughters would have been "amazed" by how many people had attended the service.
"It is clear that they touched many," he said. "We were very lucky to have two such golden girls."
Tara and Pippa leave a 15-year-old brother, Oscar, who was supported by friends during the service.
Both women were entering their final year at university - Pippa at Newcastle and Tara at the University of London.
Friend Joshua Stump, 21, from Salisbury, who was travelling with them, was also seriously injured and is being treated in hospital in Rabat.