Wiltshire residents invited to eat school meals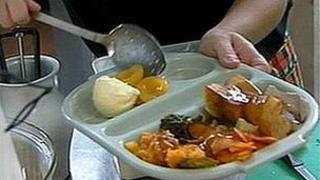 Older people are being invited to eat school lunches along with children at a primary school in Wiltshire.
The lunch club, at Brinkworth Earl Banby's School in Dauntsey, has been set up by Wiltshire Good Neighbours.
The monthly event is open to everyone but is aimed at older members of the community to tackle social isolation.
Councillor John Thomson said: "It breaks down barriers - this fear between the younger and older generation."
The lunch club, which is due to meet each month in the lower school's canteen, has been trialled over the past three months.
Helen Lines, from Wiltshire Good Neighbours, said the trial had been "phenomenally successful".
"We've had between 10 and 15 clients at each lunch club - mainly older residents - but they all enjoyed the food and the feedback's excellent," she said.
Meals provided by the school, will cost local residents £2.50 and will include a main meal, dessert and tea or coffee. Pupils pay £2.22 for their school meal.
Head teacher Sarah Findlay-Cobb said the children "thoroughly enjoy" meeting members of the community.
"We have to do a risk assessment and obviously at no point will any member of the community be left alone with any of our children," she said.
"But I do feel that it's incredibly important that we don't use all the paper filling in - the form filling - to stop us from doing things that I think enhance the children's education."