Ben Hammond dances through Britain in aid of Burma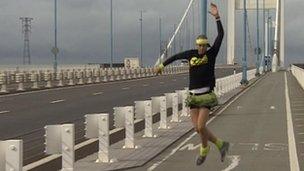 A Wiltshire teacher says he has been inspired to dance from John O'Groats to Land's End to raise awareness of the situation in Burma.
Ben Hammond, 34, from Bradford-on-Avon taught in a refugee camp on the Thai/Burma border and was shocked by the lack of freedom the people had.
The 34-year-old, wearing a neon yellow tutu, set off on 13 August, and hopes to finish in the next two weeks.
"I decided to dance because it symbolises freedom," he said.
"I'm raising funds for the human rights, education and development Burma so badly needs," he added.
Mr Hammond set up LearnBurma in 2011, a registered UK charity which works to educate young people here about the country.
During the dance challenge he visits schools who have invited him to talk about Burma.
"It's a crucial time, as the possibility of change looks more and more likely within the country, and the need for continued pressure and support is greater than ever," he said.
After arriving on the Bristol side of the Second Severn Crossing, Mr Hammond said he had been delighted by the number of impromptu dances he has had with people along the route.
"People have been tooting their car horns and dancing behind the wheel and they've pulled over to donate and dance which is amazing," he said.
The dance challenge is also raising money for Amnesty International, Burma Campaign UK, Partners Relief and Development and Prospects Burma.
"I'm using my freedom to help others get theirs," he said.
Related Internet Links
The BBC is not responsible for the content of external sites.