Great Western Hospital dispute: Staff take Carillion to tribunal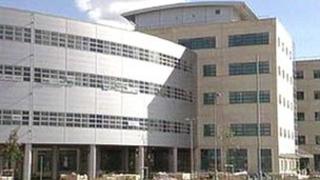 Support staff at Swindon's Great Western Hospital are to take their employers to an industrial tribunal.
Forty-nine workers are in dispute with service provider Carillion over claims of bullying and intimidation and issues surrounding leave entitlement.
They allege that managers demanded gifts for favours like granting leave, and that those who complained were threatened with disciplinary action.
The claims are being brought by lawyers Bindmans LLP.
Emma Webster, solicitor at Bindmans, said the claimants are "entering into the negotiations in good faith with the hope that respect and good working relations can be restored so that they can continue their essential jobs without having to fight for basic rights such as a working environment free from fear."
The claimants, most of whom are of Goan origin, have also made complaints of racial and religious discrimination.
The hospital is currently investigating the claims and the conciliation service Acas has also been enlisted to mediate in talks between workers and Carillion.
Maria Ludkin, of the GMB Union which represents the workers, said: "In the event that Carillion do not have sensible proposals to resolve this matter both legally and industrially at Acas, we will have no hesitation in pursuing our members cases to tribunal."
'Appropriate disciplinary action'
Gemma Lynch, facilities general manager at the Great Western Hospital, said: "Carillion intends to defend itself vigorously against the claims."
She added: "Appropriate disciplinary action will be taken against any Carillion employee found to have engaged in racist behaviour or other activity contrary to our values or equal opportunities and diversity policy."
Hospital cleaners and domestic staff have taken 20 days of strike action since February, during which Carillion launched an investigation into the claims.
Ms Lynch said Carillion was "disappointed" that claims were submitted to the tribunal before the company's investigation returned its findings.
She said the company is hopeful that talks with Acas will help all parties concerned "make progress".
Should these discussions not resolve the matter, there will be a pre-hearing review at Bristol Employment Tribunal in December.