Chippenham woman 'trampled to death by cows'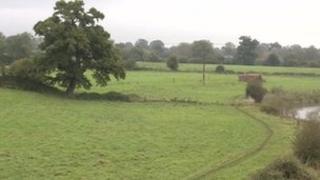 A woman is believed to have been trampled to death by cows while walking her dog in a field in Wiltshire.
Sandra Wiltshire, 68, from Chippenham, was found by Great Western Ambulance Service in the Monkton Park area of the town.
Paramedics attended the scene, near Riverside Drive, after being called out at about 08:40 BST.
Wiltshire Police said her injuries appeared to be "consistent with the lady having been trampled by a cow(s)".
Police said there did not appear to be any suspicious circumstances surrounding the death.
Next of kin have been informed.
Mrs Wiltshire's dog was also injured and taken to a vet for treatment.
The field, on the banks of the River Avon, is not marked on maps as a public right of way.
'Draconian regime'
Ian Johnson, from the National Farmers' Union, said: "We don't know what happened here, but the farmer certainly wouldn't have put any livestock that he would have considered risky in a field he knew the public was going to have access to.
"He has kept, as far as I'm aware, livestock there for years without any incidents whatsoever."
He said: "What you don't want to see is a draconian regime where farmers are absolutely banning people, but at the same time people have to be aware the countryside is a working place, that animals have to be kept somewhere and potentially there can be a risk."
But Linda Herbert, from Calne, in Wiltshire, who suffered a fractured shoulder and ribs when she was trampled by a cow 10 days ago, urged people not to enter fields where cows are kept.
She said: "This brown cow was just charging me and the next thing I knew I was underneath her feet.
"She had lifted me off my feet and I was on the ground and she was stamping up and down on my chest.
"I thought at the time 'I'm going to die here'."
She added: "Don't ever, ever go in there because the risks are too great."
The Kennel Club advised people to keep dogs on a short lead when walking in fields with animals, and to unclip the lead if worried about an attack.