Delayed Swindon station forecourt revamp complete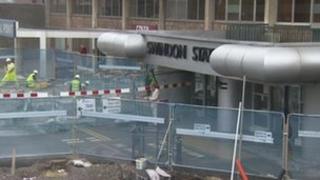 A £1.8m revamp of the forecourt at Swindon railway station is finally complete, more than three months after work was planned to finish.
Work to modernise the area began in August 2011 and was due to be completed in June, but it was beset by delays due to heavy rain over the summer.
The local authority's economic development body, Forward Swindon has overseen the work.
Chief executive Ian Piper said he was "delighted" with the result.
He said: "We set out to really improve the environment at the station and change that really important gateway for the town.
"We think it looks fabulous and the feedback we've had has been really positive."
The area to the front has been paved with granite and lined with trees to highlight the route to the town centre.
A new taxi rank provides room for 14 cabs with an additional route for taxi drop-offs and emergency vehicles.
Mr Piper said the "wettest spring and summer for 100 years" and the building contractor "underestimating the complexity of the paving work" led to the delay in completing the project.
Nikki King, landlady of the GW hotel and bar which overlooks the station, said the new design had "made a lot of difference".
"It's just taken a long time to get there and trade is picking up for us," she said.