Stonehenge work begins at Longbarrow A303 roundabout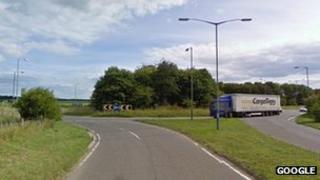 Six months of work to a roundabout near Stonehenge in Wiltshire has started.
New lanes are being added to the Longbarrow roundabout, at the junction of the A360 and A303, and its centre is to be realigned.
The Highways Agency says the work is needed in preparation for the closure of the A344 which runs beside the Stonehenge monument.
It is part of a £27m project to build a visitor centre and also grass over the stretch of road near the stones.
The 3,500-year-old World Heritage site receives more than one million visitors a year.
Once the A344 has been shut, the northern and eastern approach to the roundabout will need to take the extra traffic caused by the closure.
Mark Arberry, from the Highways Agency, said: "This is an important contribution to the long term management plan for Stonehenge to improve the setting of the monument and ensure its preservation as an iconic World Heritage Site."