Swindon coma man Sean Connolly flown home from India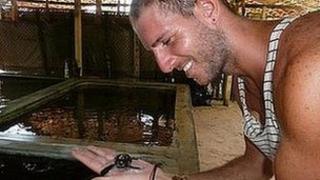 A Swindon man who ended up in intensive care in India without travel insurance has been flown home to the UK.
Friends of Sean Connolly, 26, raised £45,000 to bring him home for treatment after he was found collapsed in Mumbai on 13 October.
Mr Connolly, who is in a coma, is said to be suffering from fever on the brain.
He was flown home at the weekend and is in a stable condition at the Great Western Hospital in Swindon.
Mr Connolly, a former Dorcan Technology School student who now lives in Shoreditch, east London, was found lying in a street a day after arriving in India.
He had planned a two-week backpacking holiday through the country alone.
His friends began raising funds as they said it was costing £1,000 a day to keep him in intensive care in India.
Mr Connolly's father, Martin, had flown out to be by his side.
Doctors in Swindon will now assess his condition and the NHS will pay for his treatment.