Timeline: Police Sgt Mark Andrews cell assault case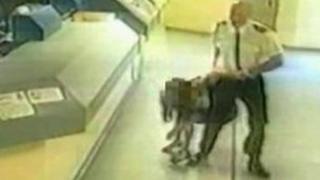 A Wiltshire police officer who was sacked for throwing a woman on to a cell floor is to get his job back.
The incident at Melksham police station in July 2008 was caught on camera and Sgt Mark Andrews was convicted of assault.
He won an appeal against his conviction but was subsequently dismissed by the force. However, an appeals tribunal ordered his reinstatement.
Wiltshire Police had asked for a judicial review but the High Court has now rejected that.
The following shows the key events in the case of Sgt Mark Andrews.
July 2008
Pamela Somerville arrested and driven to Melksham police station after being found asleep in her car. Sgt Mark Andrews is captured on CCTV footage dragging Ms Somerville across the floor of the station and throwing her on to the floor of a cell.
7 September 2010
Sgt Andrews found guilty of actual bodily harm and sentenced to six months in prison and facing dismissal from the police force.
14 September 2010
Sgt Andrews bailed ahead of an appeal hearing against his conviction.
17 September 2010
Wiltshire Police Authority says it will conduct an independent review into custody arrangements in the county.
15 November 2010
Appeal hearing begins at Oxford Crown Court.
18 November 2010
Sgt Andrews is cleared on appeal after the judge said he was satisfied that Sgt Andrews did not intend to throw Ms Somerville into the cell and that injuries she suffered were probably caused by her falling to the floor.
23 December 2010
Sgt Andrews is dismissed by the Wiltshire Police force after a disciplinary panel decided he was not of sufficient standard to be an officer in the force.
2 December 2011
Sgt Andrews wins job back after his dismissal is overturned on appeal.
5 December 2011
Wiltshire Police is ordered to reimburse Sgt Andrews for lost earnings.
19 October 2012
Wiltshire Police take an appeal against the reinstatement ruling to a judicial review.
9 November 2012
A High Court ruling rejects the judicial review and says Sgt Andrews should get his job back.
12 April 2013
Sgt Andrews who was jailed, sacked and later cleared of any wrong doing, returns to work after a lengthy legal battle.