Wiltshire PCC election: Macpherson would 'share resources'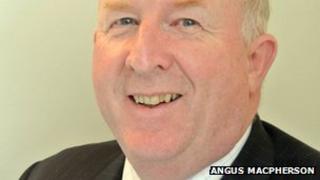 The Conservative candidate hoping to be Wiltshire's police and crime commissioner has said he would look at sharing resources with other forces and councils to save money.
Angus Macpherson also said he was open to the idea of privatising some departments.
He said he did not think there was any appetite for increasing the police part of the council tax.
The police and crime commissioner elections take place on 15 November.
Mr Macpherson said he was "committed to commissioning with the money that's available and maintaining the services with the money I've been given".
He said: "I think we can commission services from other police forces... and we can also use the other councils, and that's where the savings will come in.
"We all service vehicles, so maybe we could work together in servicing vehicles. We all answer the phones, maybe all the telephony could be done on a county-wide basis.
"We have HR departments, we have payroll departments, we have accounting departments, many, many things we all do that are the same we could perhaps do them more efficiently together."
Custody suites
Mr Macpherson added: "I don't have an agenda to privatise, I don't have an agenda not to.
"This is about taking a particular part of the budget and service and seeing who can do it best at best value.
"I think I'm more minded to look at a Wiltshire plc solution, services provided in the public sector for the whole of Wiltshire."
He said custody suites were an area of high expenditure and high risk that would need to be looked at in the commissioning process.
He said one option was the south of Wiltshire working more closely with Dorset and Hampshire forces, and the north working with Gloucestershire police.
"There are lots of questions to ask before we get to: 'Are we going to privatise it'," he said.
Also standing in the election are Paul Batchelor (Liberal Democrats), Clare Moody (Labour), John Short (UKIP), Liam Silcocks (Independent) and Colin Skelton (Independent).