Joanna Parrish's parents meet investigator in France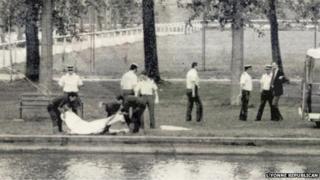 The parents of a student murdered in France have raised fresh concerns over the handling of the case by French investigators.
Joanna Parrish, from Gloucestershire, was found raped and strangled in a river in Auxerre on 17 May, 1990.
After meeting their legal team in November, her parents Roger Parrish and Pauline Murrell were told a new suspect who police were aware of in 1992, was now being investigated.
They were told the suspect's former partner told police 20 years ago that he may have been involved in the murder.
Lawyers for Joanna's parents told them this information was not in the case file and had only recently been revealed.
They also fear the focus on the main suspects - a convicted serial killer and his wife - is being turned away.
Serial killer
Miss Parrish, 21, was abducted after placing an advertisement in a local newspaper offering English lessons.
She had been raped, beaten and strangled and her body dumped in the River Yonne near to where she lived.
Although the case was reopened in June, the new suspect has not yet been interviewed by police, the family has said.
Despite repeated requests to the Paris public prosecutor's office, no response has been given to the BBC as to why the investigation has taken so long or what direction it is currently taking.
The main suspects in the case are French serial killer Michel Fourniret and his wife Monique Olivier.
Fourniret, who stalked and killed girls and young women, was sentenced to life in prison in May 2008 and Olivier was sentenced to life for helping him.
All that is known about the latest suspect is that he has a serious criminal record and is already in prison in France for sexual offences.
Miss Parrish's parents held a meeting with the new investigator - called the examining magistrate - at the Palais du Justice in Paris.
They emerged from the meeting disappointed that the focus appeared to be drawing away from Fourniret and Olivier.
Mr Parrish said: "We had to make it absolutely clear that despite the fact that there is a new lead, which is interesting and we want to be followed up, there is no possible way that we would feel that the other lead involving Michel Fourniret and Monique Olivier should be dismissed."
The full story was featured on BBC1's Inside Out (West) on Monday at 19:30 GMT.