Angus MacPherson wants 'stronger Wiltshire communities'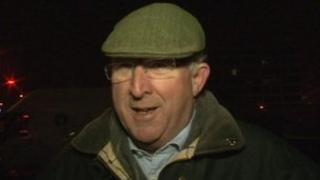 Wiltshire's new police and crime commissioner wants more people to give up their own time to help tackle crime and anti-social behaviour.
Conservative Angus MacPherson said communities could do more to police themselves.
Mr MacPherson, who became PCC in November, runs The Filling Station in Swindon and said volunteers helped to keep the streets safe.
The charity was started in 1993 and helps feed homeless people in the town.
"Don't complain about young people having nothing to do," said Mr MacPherson.
"Engage with them, find out what they want to do and do it. Or help some homeless people, or whatever. It's a volunteering society, that's what we need.
"We're going to be looking for more special constables volunteering in that way, and building stronger communities."
Anti-social behaviour was a key concern in the PCC elections in Wiltshire last month.
During the campaign, Mr MacPherson said the problem was a "community issue".
"It affects us all in many ways, but it must be addressed through community action and not just through policing action," he said at the time.
"We need to support projects right across the voluntary sector and the communities themselves to implement activities and projects that reduce anti-social behaviour."
Wiltshire Police attributed a peak in the number of anti-social behaviour incidents during the 2011-12 financial year to a change in the way incidents were recorded.