Wiltshire PCC, Angus Macpherson appoints new Chief Constable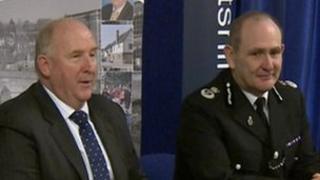 A new Chief Constable has been appointed by Wiltshire's police and crime commissioner, Angus Macpherson.
Patrick Geenty has been named by the Conservative commissioner to head up the operational side of the police force.
Mr Geenty was already the acting Chief Constable since March 2012 but his role has now been made substantive.
The new Chief Constable takes up a five-year contract with an estimated salary of £133,000 a year.
'Effective and efficient'
Mr Geenty said: "I will continue to lead the force, working alongside Mr Macpherson and other colleagues to continue to reduce crime and anti-social behaviour in the county and deliver his Police and Crime Plan, due to be published at the end of March.
"We are working within a challenging financial climate. However, I am confident we will continue to provide an effective and efficient police service for the people of Wiltshire."
Mr Geenty has worked in the police force for 30 years.
His experience includes working in CID and is the current national police lead for missing people. Before joining the police he worked as a secondary school teacher.
Mr Macpherson held the interviews on Monday, 7 January.
He said: "Mr Geenty has been the temporary Chief Constable since March last year.
"During that time, and throughout the recruitment process, he has shown a real commitment to leading the force effectively, working to ensure Wiltshire continues to be one of the safest counties in the country.
"I look forward to continuing to work with him. He is an outstanding leader and I am very pleased that we will be working together to deliver my forthcoming Police and Crime Plan."
Under the police reforms, the commissioner has the power to appoint and remove Chief Constables and is also responsible for controlling the police budget.