Honda: More affected at South Marston factory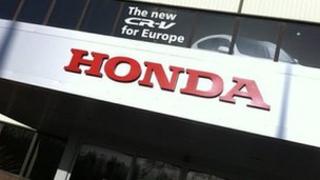 More than 300 agency staff at Honda will not have their contracts renewed on top of 800 staff losses.
The contract workers at the company's South Marston plant are expected to be released in February.
The Japanese car manufacturer is blaming weak demand across Europe for the job losses.
South Swindon MP Robert Buckland, who attended a multi-agency meeting about the cuts said details of redundancy packages have yet to be confirmed.
"If you are a worker facing redundancy or want advice about finances, benefits, potential training and educational opportunities, I want to make sure that is all contained in an easy to access way so that advice is on hand immediately to support people through what is going to be a traumatic time for them and their families," Mr Buckland said.
A support taskforce is also being set up to offer retraining, job-seeking advice and stress therapy.
A Honda spokesman said the 300 agency staff were taken on in Autumn 2012 to coincide with the market introduction of the new European CR-V.
"These 300 agency staff were provided through a third party agency and are not directly employed by Honda of the UK Manufacturing Ltd, he said.
"They were always due to finish working at the end of March 2013 and these conditions remain unchanged."
News of the 800 job cuts was revealed on 11 January.