Wiltshire snow: Gritting teams remain at work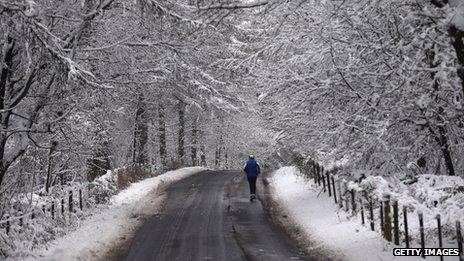 Gritting crews in Wiltshire are continuing to salt the main roads as the cold weather continues.
Wiltshire Council said more than 3,000 tonnes of salt had been spread over the weekend, with its highways teams working around the clock.
It said 50 farmers had assisted with work to clear snow.
Hundreds of schools closed following the first snowfall on Friday and eight remained closed on Monday. A further 11 opened late because of the weather.
BBC weather presenter Ian Fergusson said some areas of the West Country would see further snowfall on Tuesday, with an increasing chance of some feeding across many parts of Wiltshire through the afternoon and evening.
"Some of this could prove disruptive, but not expected on the scale of Friday's event," he said.
Wiltshire Police warned motorists to take extra care after sub-zero temperatures turned snow on the roads to black ice in places.
Disruption continued to train services as South West Trains cancelled all services from Salisbury to Bristol and First Great Western reported some disruption.
A South West Trains spokesman said it was operating a special timetable which allowed more time for trains to cope with difficult weather conditions and give passengers greater certainty about which services are able to operate and which are not.
BBC Wiltshire is broadcasting weather and travel information throughout the day on 103.5, 103.6 ,104.3 and 104.9 FM.
Related Internet Links
The BBC is not responsible for the content of external sites.