Honda distribution company in Swindon to cut 370 jobs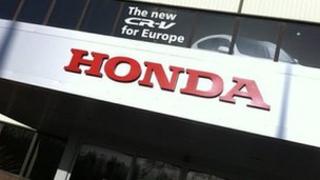 Some 370 employees of a Swindon logistics company which is part of the Honda group are to lose their jobs.
South Marston Distribution (SDC) is to cut the jobs in response to the news Honda is reducing its output at the plant a few miles away.
More than 95% of SDC's work is for Honda so it relies on the fortunes of the car giant for its own success.
The 370 jobs in question are those of temporary agency staff, accounting for 38% of the total workforce.
Steve Gopal, general manager, said the decision had been made in direct response to Honda cutting 800 jobs.
"There are a raft of companies supplying Honda - we're one of those companies," he said.
"We're also a Honda company, and as they reduce production then we have to look at our resource structure and as a result we've had to make the announcement today."
On 11 January Honda announced it was planning to cut 800 jobs at its Swindon plant, blaming weak demand across Europe.
Letters to "at risk" employees were sent out last week saying the manufacturer wants to make the changes by 1 May.
A 90-day consultation exercise is now underway.