Flashing armbands given to Wiltshire's primary school pupils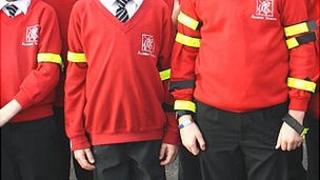 Primary school children in Wiltshire are being given safety armbands to make their walk to school safer.
Around 25,000 Year 5 and 6 pupils are to receive a flashing, high-visibility armband as part of a campaign to make the county's roads safer.
A council spokesman said the bands would "increase children's visibility, especially when the days are shortest."
The campaign is part of work by Wiltshire Council, the police, the fire service and NHS Wiltshire.
Sgt Craig Hardy of Wiltshire Police said: "It boils down to 'Be safe, Be seen'.
"If children have got reflective armbands on or reflective vests they're more likely to be seen by motorists and therefore they're going to be safer.
"This is about prevention rather then the cure at the end of the day, so if we can prevent one child being knocked over than it's worth it."
The bands will be distributed to primary schools across Wiltshire, and a further 10,000 bands will be available at the county's fire stations for anyone else who will benefit.