Wiltshire Police ends officer recruitment after a few hours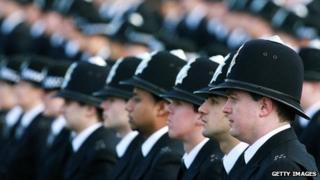 A police force which began a process to recruit new officers has closed the application window after a few hours.
Wiltshire Police is the first force in the South West to hold a recruitment drive since the 2010 government spending review.
Once selected, the new officers are due to start work in late 2013 and early 2014 on a salary of £19,000.
A force spokesperson said it had an "exceptionally high level of interest" with over 283,820 hits on its website.
The force had said it would monitor applications once the pre-assessment tool went live and would close the window once required levels of interest had been met.
Shortly after the tool was made available the website crashed, with the force blaming "high volumes of traffic" for the technical problem.
The information was published online by the force at 16:00 GMT and withdrawn by 18:30 GMT.
Minority groups
Mark Levitt, the force's resource manager, said: "We're looking to get a pool of people - a good few dozen people - to cover vacancies that we foresee coming up over the next couple of years."
A recruitment freeze was in place at the force from September 2009 to summer 2012.
Mr Levitt said: "The vacancies and the gaps that we're getting at the moment are due to a large number of people who are reaching the end of their service, following big intakes at the end of the 70s and beginning of the 80s.
"But we're looking for applications from right across all age groups within the community.
"In particular we're underrepresented with minority groups and so we'll very much welcome applicants from those groups."
Applicants must be aged between 18 and 57 with a minimum of five GCSEs.
Candidates must also live within Wiltshire, Somerset, the greater Bristol area, Gloucestershire, Devon and Cornwall, Thames Valley, Dorset, Hampshire or south Wales.