Swindon railway works is preferred UTC site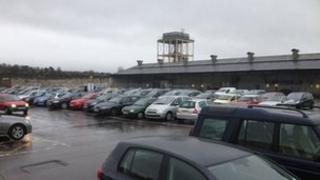 The preferred site of Wiltshire's first university technical college (UTC) has been revealed.
Developers want to build the college for 14 to 19-year-olds at Swindon's old railway engineering works.
The college, which will specialise in engineering and enterprise, is a joint project between Oxford Brookes University and local firm Johnson Matthey Fuel Cells.
The government is committed to funding 24 UTCs in England.
They will offer technically-oriented courses delivered alongside the national curriculum.
Paul Holmes, from Johnson Matthey Fuel Cells, said the Swindon UTC was expected to open in September 2014.
He said they currently lease the land but hope to buy it.
"This has been generated from our difficulty in trying to find and recruit engineers," Mr Holmes said.
"We've struggled for many years to find good engineers, applicants for jobs have been few and far between, so this is an opportunity to revitalise and regenerate interest in engineering."
He said of the plans: "There's going to be a mixture of revitalised, restored, historic buildings there, as well as some new innovative and interesting buildings that blend into what was the railway village and blend into the centre of Swindon."
Paul Inman, pro vice-chancellor of Oxford Brookes University, said Swindon was "one of those areas that desperately deserves success".
He said: "We are working with the schools in Swindon to become part of that community."
UTCs are partnerships between local colleges and the business community. They have a greater emphasis on practical training rather than academic work.