'No more space' for artefacts at Wiltshire's museums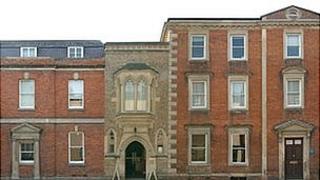 Museums in Wiltshire have told the council they can no longer accept artefacts excavated during development.
Wiltshire Heritage Museum and Salisbury and South Wiltshire Museum said their archaeological stores were full.
David Dawson, from Wiltshire Heritage Museum, said: "We've got about 5,000 boxes of archaeological finds at the museum - and have no more space."
Wiltshire Council said it "recognises the need" and is "proposing a new large storage facility for these items".
"We've got about 400,000 archaeological artefacts everything from fragments of pottery and shards of flint to carts and wagons," said Mr Dawson.
"And we get about 50 to 100 boxes a year from developers.
"Salisbury museum has been full for 10 years and we had to get an off-site store to continue to take in artefacts but now that's full."
Stuart Wheeler, from Wiltshire Council, said it was important that the county's "historical artefacts are kept for future generations".
He said: "Heritage centres have been doing a wonderful job of preserving these finds for many years.
"We are now proposing a new large storage facility for these items which would ideally be funded by developers who uncover archaeological items on their site.
"This facility will be supported by the museums."