Warminster deputy mayor wants hawk to deter pigeons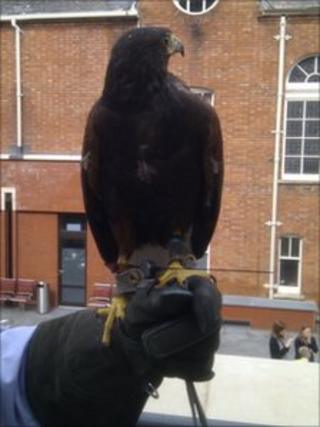 A hawk could be brought into a Wiltshire town to stop pigeons there causing a nuisance.
Paul Batchelor, deputy mayor of Warminster, said something needed to be done because of "unsightly" pigeon droppings.
Hawks have been used to deter pigeons in other towns, including Swindon.
Glenda O'Connor, manager of Swindon's Central Library, said: "They [the pigeons] don't want to come out because they don't feel safe."
'Contraceptive feed'
Mr Batchelor said: "It's just unsightly. So many people comment on it.
"It's in the hub of the town centre... it's where everybody has to pass by in fear of having a little message left on top of their head.
"The two things I would advocate and promote if it was possible is to either have a hawk who can swoop around and scare them off because they know the hawk is a predator, or maybe use some contraceptive feed.
"The town council has so far said 'yes there is an issue', but they've been reluctant to put any funds behind it."
Ms O'Connor said of the library in Swindon: "We had about 50 pigeons that were roosting there regularly and it took about four months before we noticed a huge difference, but all of a sudden there were no pigeons coming down into the courtyard.
"They still sit on the roofs and look in, but they now think that the hawk lives there."