Chippenham 'win a shop' competition winners to close stores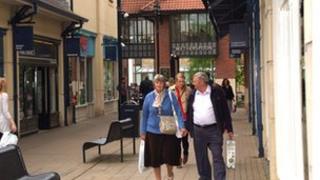 Two women who won rent-free retail premises in Chippenham are closing their shops blaming economic pressures.
Anne Rudd and Karen Jones submitted clothes shop proposals to the owner of the Borough Parade shopping centre and were chosen to occupy two empty units.
They were allowed to trade in the centre rent-free for six months from August, but Ms Rudd's shop has already closed and Ms Jones is following suit.
Miss Jones is moving her business to Corsham and Ms Rudd is to trade online.
Borough Parade owner Mountgrange launched the win-a-shop scheme in April in order to fill empty shops at the centre.
After the rent-free trial period both shop winners would be offered a formal lease.
Ms Jones's shop, Vintage Couture 77, sold vintage clothing and Ms Rudd's shop, Jim and Jemima, sold home-made children's clothes.
'Difficult for retailers'
Ms Rudd said "a combination of parking charges, utility bills, and a lack of customers" led to the closure of her shop.
She is currently finalising plans to reopen in nearby Corsham in March.
"Hopefully where I'm going will be a better fit for my type of shop," she said.
Ms Jones has agreed a short extension to her lease with Mountgrange, but plans to develop her business online in the long-term.
A Mountgrange spokesman said: "The last six months has been very difficult for retailers in general, with a series of high profile high street store chains struggling and even folding completely. Chippenham has, of course, not been immune."
He said the company still felt the win-a-shop competition had been a "real success" and was "all about encouraging fledgling local independent retail businesses".
Borough Parade shopping centre, in Chippenham town centre, is home to a selection of national retail brands and independent stores.