Malmesbury homes planning permission given 'in error', MP told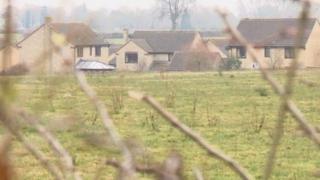 Planning permission for 180 homes near Malmesbury was granted "in error", a Wiltshire MP has been told.
Gleeson Strategic Land's proposed development on the northern edge of the town was turned down following the recommendation of councillors.
The case went to appeal, where permission with conditions was granted.
However, James Gray MP said he was told the planning minister wanted to consider the case personally and the decision should not have been released.
'Written instructions'
A spokesman for the Planning Inspectorate said: "The decision was unfortunately issued due to an administrative error at the Planning Inspectorate.
"A letter of clarification has now been issued."
Mr Gray, Conservative member for North Wiltshire, said the Parliamentary Under Secretary of State for Planning, Nick Boles, had contacted him.
"[He] rang me to say that the planning permission granted for the Gleeson development in Malmesbury had in fact been issued in error," Mr Gray said.
"He tells me that he gave written instructions last week for this planning application to be called in, in other words to be decided by the ministers personally.
"Through some mistake, that instruction apparently did not arrive at the Planning Inspectorate, who issued the permission incorrectly.
"The minister has now instructed the planning permission to be withdrawn and the application to be called in for his personal decision."