Go Ballooning creditors' meeting planned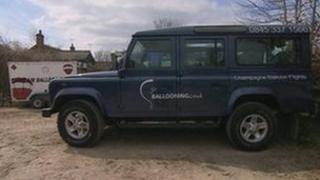 Customers owed money by a hot air balloon company are being emailed about the company's situation.
Thousands of people are believed to have been affected after Cameron Flights (Southern) Ltd, which operated as Go Ballooning, went into administration.
The emails give details of a creditors' meeting due to be held on 24 April.
The company, based near Pewsey, Wiltshire, stopped trading on 4 April, resulting in 30 redundancies.
The company has advised customers to seek refunds from their debit or credit cardholders.
A statement on the company website said: "The details of all known creditors have been extracted from the company records and formal notice of the meeting of creditors is being or has already been dispatched."
It added that a large number of creditors would be contacted in "a major emailing exercise".
A previous statement said the company ceased trading "for reasons of insolvency" and Joe Sadler, of Elwell Watchorn & Saxton LLP, had been appointed to handle the administration.