Wiltshire bird lovers asked for swan help by canal charity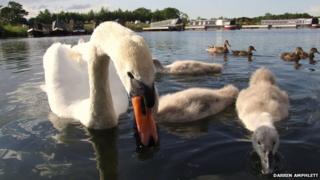 Bird lovers in Wiltshire are being asked to tweet a charity their first sightings of the season's cygnets.
The Canal & River Trust is monitoring swan numbers on the Kennet and Avon Canal, from Reading to Bath.
The trust will record the progress of the birds as they set up their nests, lay eggs and welcome their newborn.
Caen Hill Lock Flight in Devizes has already seen one pair of swans set up nest and lay eggs, with the first cygnets expected in May.
The famous Wiltshire lock flight has in the past been home to up to three pairs of swans with the local community and visitors helping the trust's ecologists and local lock keepers to look out for them.
The project is being run nationwide to encourage interest in and respect for one of the most iconic waterway birds - the mute swan.
You can find more details about how to get involved on the Canal & River Trust website.
'A bit protective'
"With the Kennet and Avon Canal stretching 87 miles, we can't follow every family ourselves," said Oda Dijksterhuis, ecologist for the Canal & River Trust, which looks after 2,000 miles of waterways in England and Wales.
"We need people's help to get a complete picture, so really want you to tweet your own swan stories and photos, sharing with others the fantastic highs and a few inevitable lows.
"Like any new parent, swans can get a bit protective, so do please take an interest and get involved, but also remember to give the mums and dads their space and, importantly, keep your dogs on a lead if you are around them."
The Kennet and Avon Canal comprises three waterways and was built to transport goods from Bath to London.
The Kennet Navigation opened in 1723 from Newbury to Reading.
Four years later it was followed by the opening of the Avon Navigation from Bristol to Bath, and the section from Bath to Newbury opened in 1810.