Salisbury crematorium left to grow wild to save money, council says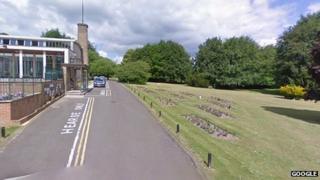 Crematorium grounds in Salisbury are to be left to grow wild to save money and hours of mowing, the council has said.
The city's 53-year-old crematorium and surrounding landscape were given listed status by English Heritage last year.
The grounds, designed by Brenda Colvin, were described as an "influential example of a crematorium landscape".
Now Salisbury City Council is planning to leave the grounds to "grow longer and wilder" to save money and bring them "closer to Colvin's design".
The crematorium is currently undergoing £2.5m worth of renovation work.
It was awarded Grade II listed status last year while its grounds were put on the Historic Parks and Grounds register.
Parks manager Chris Stringer said: "We're planning to look after the grounds slightly differently, with the long-term aim of restoring the grounds in line with Colvin's design and ambitions."
"Starting this summer a great deal of the grass is going to be left to grow longer and wilder," he said.
"This simple change will save hours of mowing and chemical treatments making it a cheaper, more sustainable and environmentally friendly regime."
The authority is also contemplating removing the ground's memorial roses, which are being eaten by deer.
"A fence round the roses is the obvious solution, but it will need to be over six feet to have any chance of keeping the deer out," said Neil Lucas, the crematorium manager.
"Removing the roses is likely to be a cheaper alternative, but then we have to consider the sensitivity of this."