Great Western Way Swindon: Road inbound still shut after pipe burst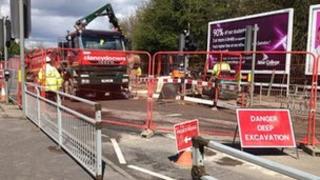 Part of a main commuter route into Swindon will remain closed until Wednesday after a water main burst.
The pipe fractured on Thursday on Great Western Way close to the Bruce Street Bridges.
Thames Water said more than 30m (98ft) of road surface needed to be replaced after the burst.
"Normally it would take six weeks to plan a repair of this size... we're trying to get it done in a couple of days," a company spokesman said.
"We really apologise for the disruption and inconvenience - I know Friday was particularly bad - we're doing everything we can do to get this out the way as soon as possible," he added.
The B4006, Great Western Way, in Swindon closed inbound between Barnfield roundabout and Bruce Street Bridges junction.
A diversion is in operation via the A3102 Wootton Bassett Road, Penzance Drive, Rodbourne Road and Kemble Drive.
The "bus gate" near Penzance Drive and Rodbourne Road is open to all traffic.