May Hill's red band needle blight-infected trees to be felled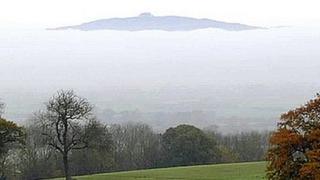 Up to 30 trees in a landmark clump in Gloucestershire, which can be seen for miles, are to be felled because they are diseased.
The pine trees on May Hill were planted to mark Queen Victoria's Golden Jubilee and Queen Elizabeth II's Silver Jubilee are infected by red band needle blight.
Longhope Parish Council was told the disease could affect the whole clump.
But now, Councillor Dave East said only one large and some smaller trees around the perimeter will need to come down.
'Trees ignored'
"We did panic a bit with this red band needle blight but we have identified one of the big trees which needs to come down straight away because that is dead," said Mr East.
"And we need to remove some of the small trees which have died - 20, 30 of the small perimeter trees, we need to thin them out".
The land at the top of May Hill was planted with about 100 Corsican Pines in the late 1800s.
Nearly a century later, hundreds of Corsican and Scots pine were also planted around the perimeter of the main clump.
"What is now being planned is work that should have been happening anyway," said Rob Guest, a former Forestry Commission officer who has been advising the parish council.
"The trees have been ignored and now the parish council needs to do some ongoing management."