Devizes street evacuated over reported explosives threat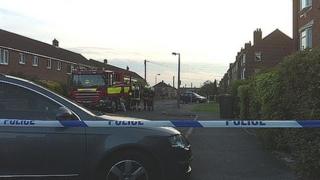 A street in a Wiltshire town has been evacuated as a "precautionary" measure following reports there are explosives in a flat.
Police evacuated between 40 and 50 residents from flats on Mayenne Place in Devizes following the arrest of a man earlier in the day.
A police spokesman said "information was disclosed" which has led to the evacuation of "some addresses".
He said police officers and the army would be entering the flat shortly.
Residents have been evacuated to Browfort House, former council offices.
Welfare arrangements
Insp Matt Armstrong said public safety was "paramount".
"This evacuation is a precautionary measure following information given to us earlier today," he said.
"Shortly, those residents affected will be moved to a place of safety while our investigation continues. Welfare arrangements are also in place."
He said more information would be given to the public in due course.
"We are working in conjunction with our partners - including Wiltshire Fire and Rescue Service, South West Ambulance Service Trust, Wiltshire Council and NHS England to make sure this evacuation runs as smoothly as possible," he said.
"Wiltshire Police would like to thank members of the public for fully co-operating with all emergency services down at the scene."