Malmesbury Waitrose plans to be approved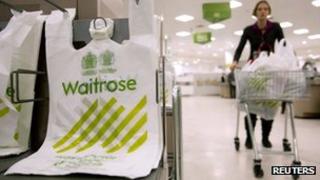 Waitrose should be given permission to build a supermarket in the historic town of Malmesbury, subject to conditions, councillors have agreed.
Sainsbury's also put plans before councillors but they were rejected.
Planners told councillors the Sainsbury's store planned for the outskirts of Malmesbury would have an adverse effect on the town centre.
They said building a Waitrose to the east of the High Street had potential to bring more shoppers to the centre.
Wiltshire Council's planning committee voted 11-0 to delegate the Waitrose plans to the planning department to grant subject to conditions.
It unanimously rejected Sainsbury's plans.
Malmesbury currently has two small Co-operative supermarket stores.
Last year the Malmesbury Neighbourhood Survey found that 70% of people wanted a new supermarket, with 43% still saying "yes" even if it damaged the High Street.
Sainsbury's had wanted to build a store on the Malmesbury Garden Centre site on Crudwell Road, 1.2km to the north of the town centre.
It said the store would bring genuine choice for those in the area and be a catalyst for further employment units on the site.
The plans received 350 letters of objection and 198 letters of support.
A Sainsbury's spokesman said: "This is obviously a great disappointment to us as it will be to many people in Malmesbury who wanted a new Sainsbury's store.
"We know from our exhibition, as well as from talking to local people and from the planning file, that there was a great deal of support for Sainsbury's application."
Waitrose, which submitted plans shortly after Sainsbury's, wants to build on undeveloped land on the south east edge of the town.
Its plans received 190 letters of objection and 505 letters of support, of which just over 400 were identically-worded.