Two Wiltshire road projects get £4.8m of funding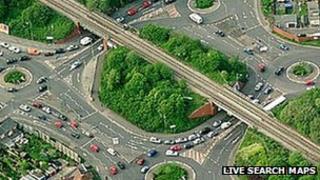 Two road improvement schemes to tackle congestion in Wiltshire have been awarded £4.8m of government funding.
Wiltshire Council has been given £1.9m towards a £2.7m project to make the A350 in Chippenham a dual carriageway.
Whilst £2.9m has been awarded to Swindon Borough Council to replace four separate roundabouts at Bruce Street Bridges with a single roundabout.
The cash is part of £165m of Government funding to tackle traffic bottlenecks in England.
Councillor Keith Williams said changing the layout at Swindon's Bruce Street Bridges will cost about £4.7m.
"The traffic modelling work we've done has shown that it will actually increase the flow and the speed at which traffic can move around the junction," he said.
In Swindon, it is estimated that work will start in September and be completed by March 2015
Work to widen the A350 in Chippenham, between Badger Roundabout and Jackson's Lane, is due to begin in January and take a year to complete.