Charlie Austin guilty of Swindon nightclub assault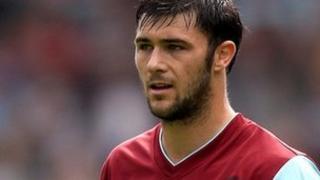 Burnley footballer Charlie Austin has been found guilty of assaulting a man in a nightclub.
Swindon Magistrates' Court heard the 23-year-old punched Sam Webb, 20, in the face after an altercation in Bushwackers in Swindon on 13 October.
The former Swindon Town striker had denied the charge and said he was acting in self-defence.
He was found guilty of common assault by beating, fined £1,800 and ordered to pay £1,320 in costs.
The court was told that Mr Austin and his partner Bianca Parker, who live in Ramsbottom near Burnley, had returned to Swindon to visit Ms Parker's parents.
On the night of Saturday 13 October the couple were in the club in Swindon town centre.
Mr Webb told the court that he had disturbed Mr Austin in a toilet cubicle where he saw the footballer "hunched over" the toilet bowl.
'Sniffing sound'
He said he heard a "sniffing sound" and suspected Mr Austin was using some kind of street drug.
Mr Webb said as a Swindon Town fan he recognised him and asked him why he was taking drugs when he was a professional footballer.
He said Mr Austin then swung at him in the toilet and missed, but later confronted him back in the club.
Mr Webb said he walked up to him and punched him "square in face" and "in revenge" because he was annoyed at being disturbed.
Mr Austin refuted any allegations of drug-taking saying it would end his career as a professional footballer as the FA carries out random drug-testing.
He claimed he was using a cubicle as the urinals were busy and said the door was opened by a group of men who were filming him on their phones because of who he was.
Mr Austin said he had experienced problems in Swindon since his transfer to Burnley in January 2011, from fans who were annoyed by his transfer.
He said he left the toilet and Mr Webb and another man came towards him in "a threatening manner" and he punched him in self defence.
Magistrates decided that there had been no threatening behaviour from the witness, so Mr Austin had no grounds to claim self defence.