Aldbourne recurring sewage problems investigated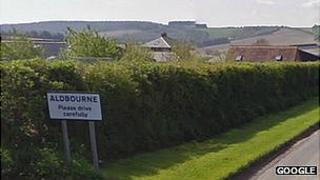 An investigation is to be carried out to find out what caused sewage to spill on to streets in a Wiltshire village.
Drains in Aldbourne near Marlborough have overflowed numerous times in recent years and in January, sewage appeared outside homes.
Thames Water spent several months pumping out sewers but residents are calling for a "long-term solution".
A group made up of local people and parish councillors has launched a study to find out the cause of the problem.
Nick Josephy, chair of the newly set up Aldbourne Drainage Improvement Group (ADIG), said local people were "determined" to solve the issue.
At the beginning of the year, flood water resulted in sewage appearing outside villagers' homes following England's wettest year on record.
'Pretty unpleasant'
Two months later, high water levels in the River Thames were blamed for causing sewage pipes to overflow in both Aldbourne and Compton.
On Wednesday, the ADIG met with representatives from Thames Water, Wiltshire Council and the Environment Agency to discuss the issue and to try to find a long-term solution.
"We had high groundwater because of all the rain over about 12 months," said Mr Josephy.
"But it's the sewers getting overwhelmed and as a consequence surging into the streets - it is pretty unpleasant in the village itself when that happens.
"So we've got in place a series of studies which once we've got the results of them should enable us to decide what work needs doing in the village and get it done."