Swindon's £15m new car park 'a financial drag'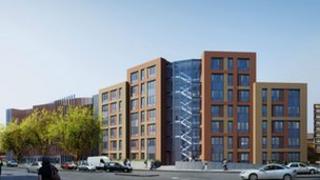 Concerns have been raised about a new £15m car park being built in Swindon after the council lost £169,000 in parking revenue in the last year.
The town's Labour group has criticised the Tory-controlled council's decision to build the car park when fewer cars are being parked in the centre.
Labour councillor Julian Price said it would be a "financial drag on council-taxpayers for years to come".
The Conservatives' Garry Perkins said it is an "investment" in the town.
He said a number of the town's car parks were "old, unattractive and unsuitable for use", and these would be closed to make way for the new car park.
Mr Perkins described the car park, which is situated on the new Kimmerfields development and due to open in August, as "state of the art".
Mr Price said he hoped the council would make a success out of the new car park.
However, he said the "evidence is increasingly mounting up" that it would become "another town centre disappointment", even before it opens.