Michael Chudley jailed for murder of solicitor James Ward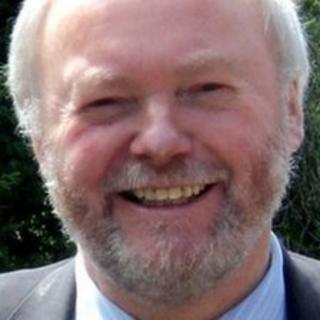 A bankrupt businessman who shot a solicitor in his office at close range has been jailed for 28 years.
Michael Chudley, 63, of no fixed address, was found guilty at Salisbury Crown Court of the murder of James Ward.
Chudley had denied murder, but admitted manslaughter on the grounds of diminished responsibility.
Mr Ward was shot at MGW Law in Devizes, Wiltshire, last July. He died from his injuries three weeks later.
Sentencing him, Mr Justice Bean said the shooting was "a chilling, calculated execution".
He said four years ago Chudley began a court case against Christopher Sear.
"His [Mr Sear's] solicitor was Jim Ward. Mr Ward was a decent, conscientious, highly respected solicitor in Devizes," Mr Justice Bean said.
"You lost the case and lost a great deal of money in the process. So you decided to take your revenge on Mr Ward.
"I am quite satisfied that you intended to kill Mr Ward. You fired a single shot to his head, then walked out as calmly as you had arrived, got into your car and drove off," he added.
Chudley was sentenced to five years' imprisonment for the firearms offences and a seven year term for making the threat to kill. They are to run concurrent to the life sentence with a minimum term of 28 years.
Speaking outside court Det Ch Insp Ian Saunders said Chudley had "a history of being an angry, paranoid, litigious man".
"When he lost the case, he blamed Jim Ward. He didn't get what he wanted and decided to get revenge," he said.
"Chudley has shown no remorse and, by his own admission, does not know the meaning of the word."
'Devastating head injury'
The court was told Chudley was suffering from a paranoid personality disorder at the time of the shooting.
He had lost his home and business after a legal dispute over building work and had taken to sleeping in his car or in rented rooms.
Mr Ward, known as Jim, had been acting on behalf of the man Chudley had tried to sue.
Chudley claimed he had no memory of shooting the 58-year-old father-of-three in the head.
Mr Ward, from Westbury, Wiltshire, was at work when Chudley walked into his first-floor office and shot him shortly before 15:00 BST on 2 July last year, the jury was told.
He was arrested at his former home in the nearby village of Rowde 30 minutes later.
Mr Ward, who suffered "a devastating head injury", died almost three weeks later.
Earlier in the trial, Chudley had admitted carrying an offensive weapon with intent to commit an indictable offence, possessing the gun with intent to cause unlawful violence towards MGW Law receptionist Daphne Courtney and threatening to kill Mrs Courtney with it.