Life-size polar bear skeleton stolen from Wiltshire garden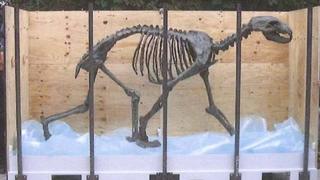 A life-size bronze sculpture of a polar bear skeleton has been stolen from the front lawn of a house in Wiltshire.
The figure, worth more than £15,000, was taken from a property in West Hatch near Tisbury on Monday night.
Created by local sculptor Mark Coreth, it was part of a campaign to highlight the plight of Arctic polar bears.
PC Matt Price said: "It is often the case that items are stolen to be sold as scrap metal so we need to locate the sculpture quickly."
Life-sized polar bears, carved out of blocks of ice frozen around the bronze impression of a bear's skeleton, were created by the artist in London, Manchester, Copenhagen, Toronto, Montreal and Ottawa.
It was part of a campaign by the World Wildlife Fund to highlight the plight of the polar bears in the Arctic, where melting ice is threatening their survival.
According to the police, the sculpture was not free standing and had been "secured with a metal structure".
"Due to the size and weight of the sculpture we suspect that a low loader with a Hi-Ab would be required to pull the sculpture from its moorings," said PC Price.
"With that in mind, I would like to hear from anyone who saw large vehicles in the area or any suspicious activity."