Artist Mark Coreth speaks of West Hatch bear art theft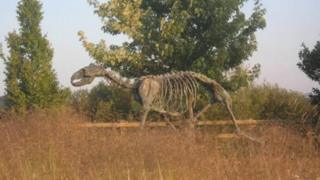 A Wiltshire artist has spoken of his "horror" after finding his life-size polar bear sculpture had been stolen.
Sculptor Mark Coreth noticed the bronze skeleton, worth more than £15,000, had been taken from a property while out walking with his dogs.
The figure was stolen from the front lawn of the property in West Hatch near Tisbury, on Monday night.
Wiltshire Police said the sculpture was not free-standing and had been "secured with a metal structure".
They believe a "low-loader" would have been needed to pull the sculpture from its moorings.
'Powerful message'
"I just looked at the space and looked with absolute horror and thought they've taken it," Mr Coreth said.
"It's a huge tragedy. It's a piece of sculpture that to me is very significant.
"But also it had quite a powerful message that was very well received, right around the world. Now to my horror I find that, I presume, it's gone for scrap."
Life-sized polar bears, carved out of blocks of ice frozen around the bronze impression of a bear's skeleton, were also created by Mr Coreth in London, Manchester, Copenhagen, Toronto, Montreal and Ottawa.
They are part of a World Wildlife Fund campaign to highlight the plight of Arctic polar bears, where melting ice is threatening their survival.