Missing man Tom Edwards 'given lift to bus stop by police'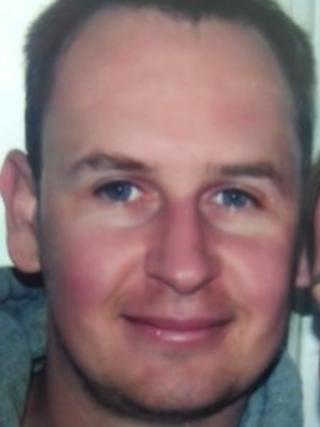 A man who went missing after a night out in Swindon was given a lift to a bus stop by police.
A major investigation is under way into the disappearance of 32-year-old Tom Edwards, from Derry Hill near Calne.
He has not been seen since Friday when he left Rudis bar, in Swindon, Wiltshire, between 21:45 and 22:15 BST.
Wiltshire Police are appealing for four men who boarded a bus from Swindon to Chippenham on Friday evening to come forward.
Mr Edwards was taken to a bus stop outside the Swindon Designer Outlet Village by officers who saw him walking on Church Place.
The officers patrolled the area and Mr Edwards was seen at the bus stop 10 minutes later.
Police are now asking for four men who boarded the 55A bus from the Penzance Drive area at approximately 23:00 to contact them.
A police spokesman said: "There are several bus stops along Penzance Drive and it is possible that these men could have boarded at different stops."
Family and friends of Mr Edwards have been searching the local area and said it was not like him to go missing.
'Out of character'
His wife, Dee Edwards, who he married last year, said: "He's my best friend. He has never left me this long. This is really unlike him.
"At the moment we just hope that he might have fallen, hurt his head, be unconscious, that's what we are hoping at the moment.
"We don't want to go down the other lines because we are still really being positive and we want to stay positive and we hope he is still there, with us."
Wiltshire Police said Mr Edwards' mobile phone has been traced to the Chippenham area.
Clive Green, one of Mr Edwards' colleagues who was with him on Friday night, said: "We're handing out flyers to the public, who have been very helpful.
"We're really just trying to find him, or his phone as a starting point and then we may be able to solve the mystery of where he has disappeared.
"He is just one of the loveliest guys you'll ever meet. He's just a great guy and it is out of character."
Wiltshire Search and Rescue have been assisting the police in the area leading from Derry Hill towards Chippenham.
Insp Paul Hawkins said: "We have a robust police investigation well under way and detailed inquiries are ongoing.
"I would urge anyone who may have seen Mr Edwards late on Friday evening or early on Saturday morning to come forward immediately."
Mr Edwards is described as a white male, of thin build with short dark hair. He also has Ironman tattoos on his right leg and left arm which depict a red and white Australian flag.